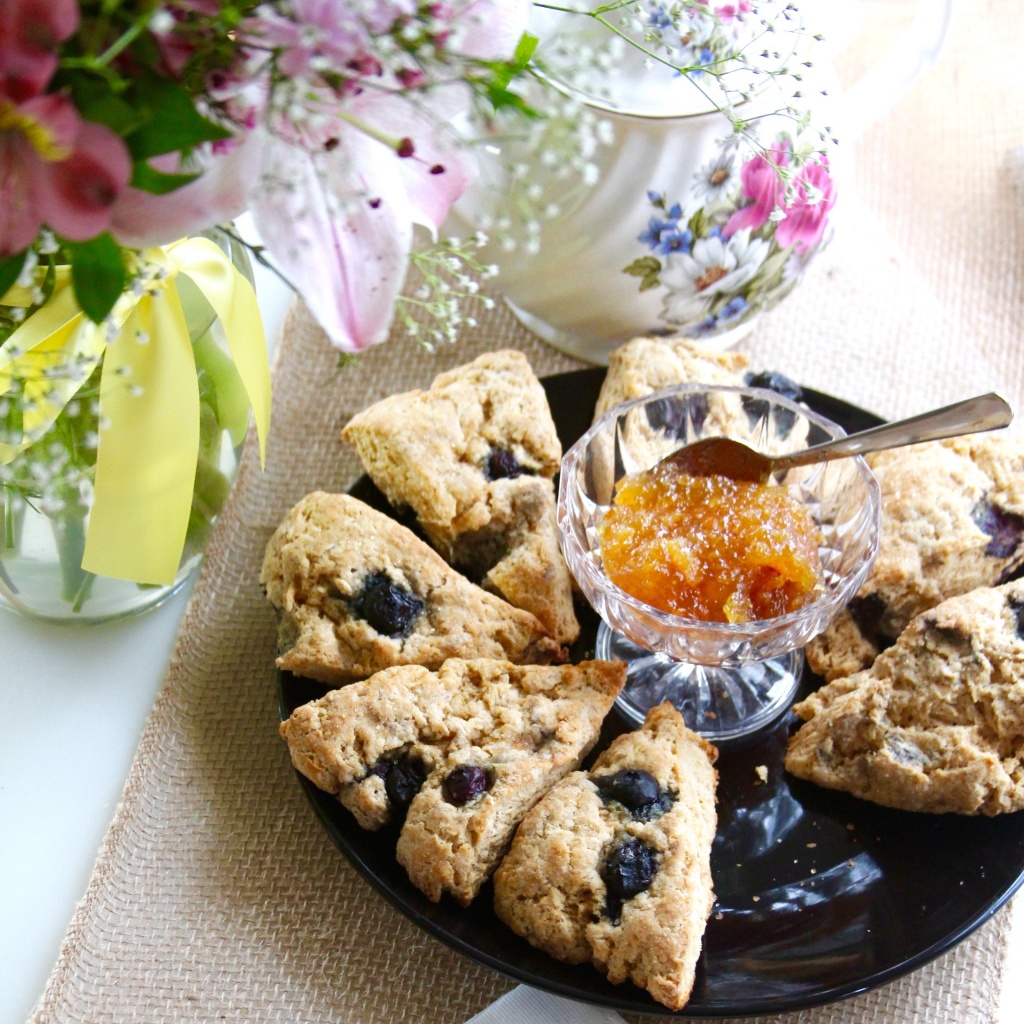 I love adapting recipes. It's so rewarding when you discover that a simple substitution or addition to your favorite recipe yields an even better result! Sometimes, when I set out to create a recipe, I start completely from scratch and just throw things together while I go. It's definitely an enjoyable process, but the results vary drastically… and if I end up with a disaster, it's hard to pinpoint where I went wrong. That's why I occasionally adapt or tweak other peoples' recipes to fit my needs or tastes.
I've been making this scone recipe from All Recipes for some time. It's everything a scone should be: soft, flakey, moist and slightly crispy on the outside. And with I even used it as a base for my Gluten Free Orange Scones. (You can tell I love this recipe!) This time, I switched out the all-purpose flour for whole wheat pastry flour and added some ground flaxseed for a more hearty scone. You may also notice that I used yogurt instead of sour cream. This gives the scones a more "tangy" flavor and also adds some great probiotics. I also added a generous amount of lemon zest (and a touch of lemon juice), a dash of ginger and some blueberries to top it off. Additionally, I changed the baking powder & soda quantities. (1 TABLESPOON of baking powder!?) Yup, you read that correctly. Since whole wheat pastry flour is heavier and denser than all-purpose, more rising agents are required to result in a soft, fluffy, tender scone.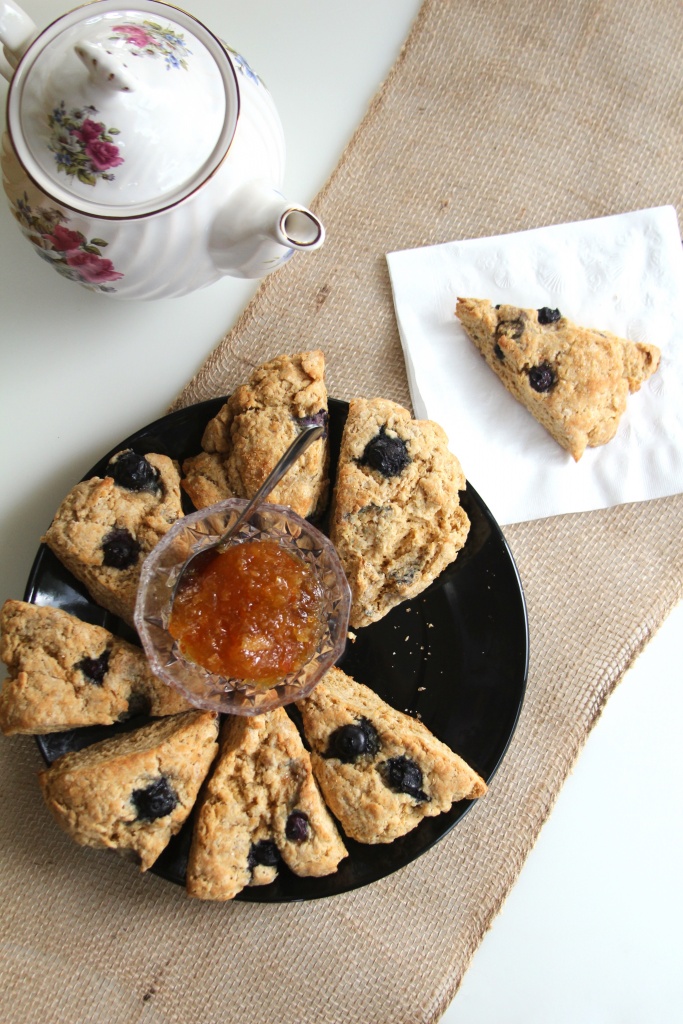 If you've never adapted a recipe before, I would highly encourage you to do so. Your favorite, tried and true baked good recipe is a great starting point. Try swapping out sour cream for yogurt, swapping out some of the flour for coco powder, adding a teaspoon of apple cider vinegar to activate the rising process for fluffier quick breads, adding freshly roasted or candied nuts to your favorite chocolate chip cookies, or adding berries, candied ginger, grated apple, cinnamon or cardamon to your baked goods… the opportunities are endless.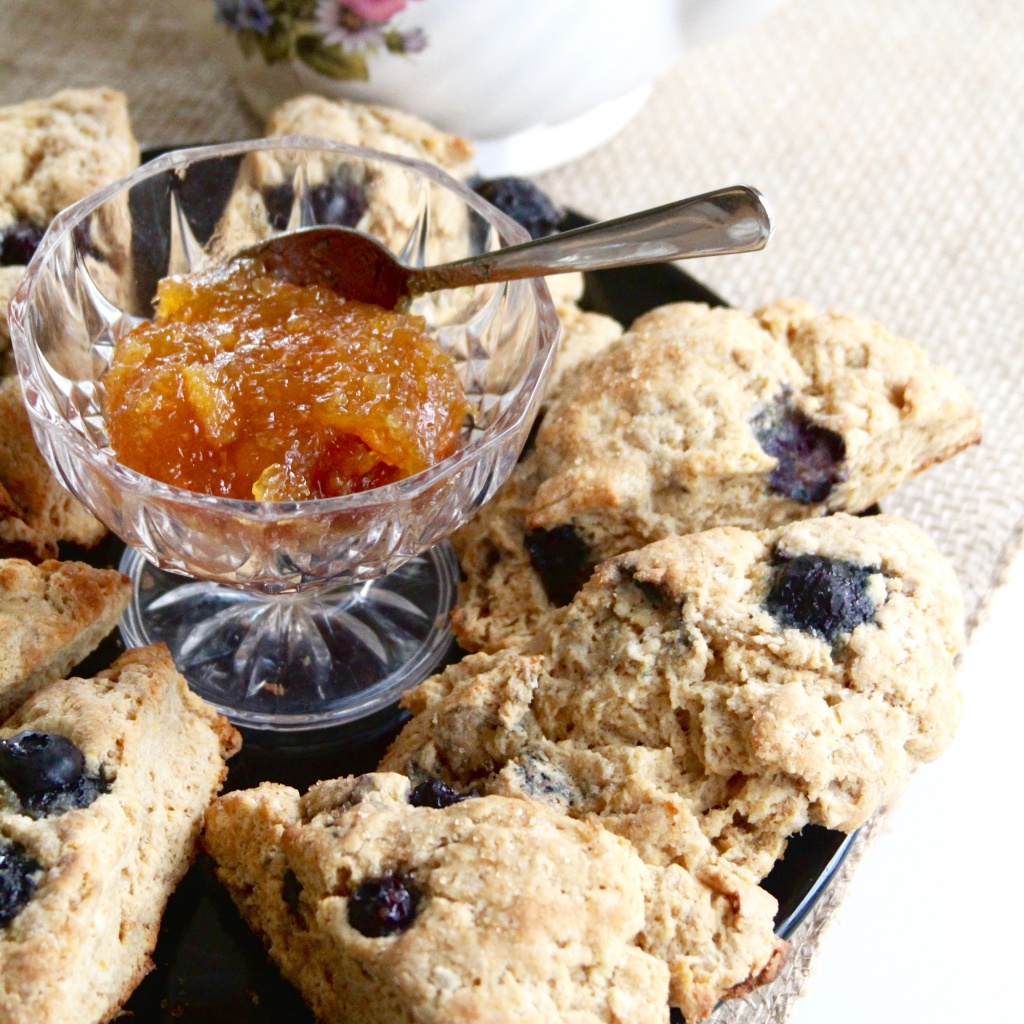 Whole Wheat Lemon Blueberry Scones
2016-05-25 15:44:33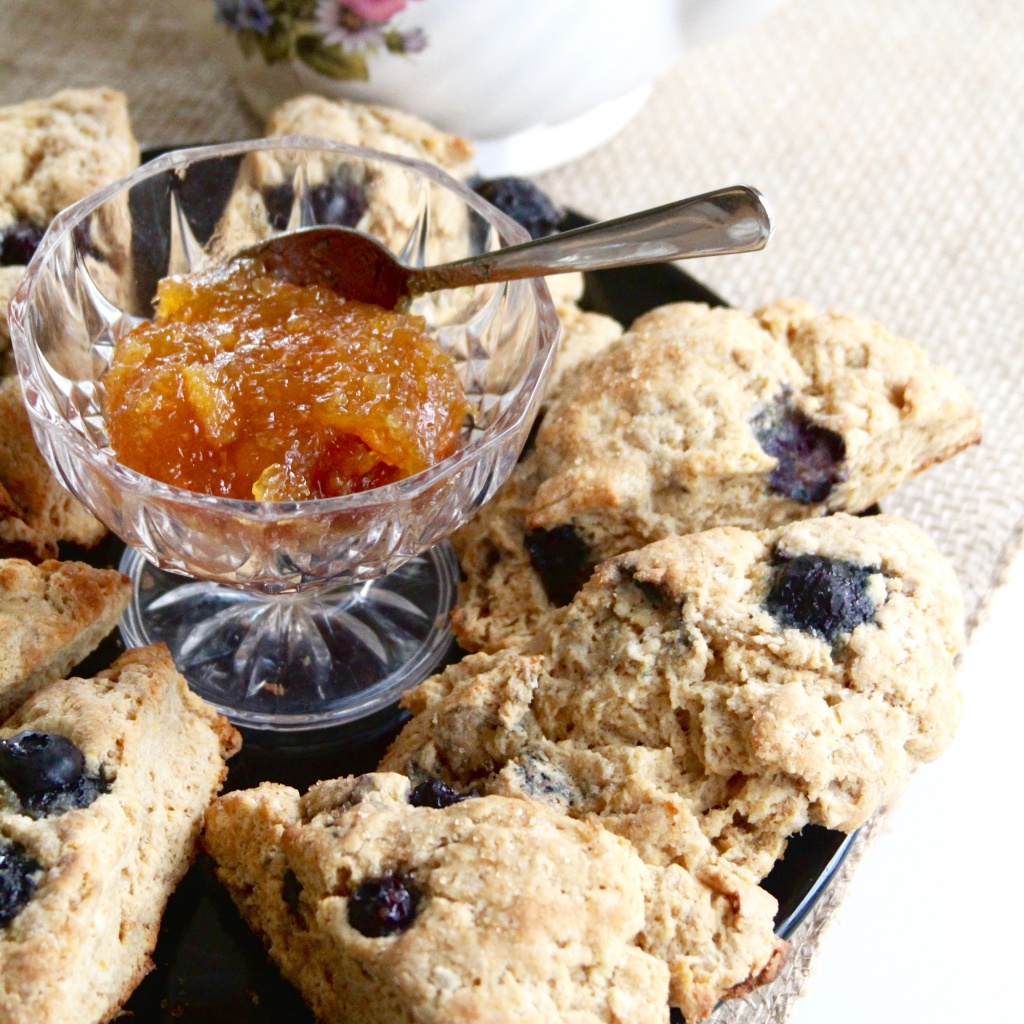 Serves 14
Hearty, fiber-ful and not too sweet, these blueberry-studded scones pair well with a pat of butter or a spread of marmalade.
Nutrition Facts
Amount Per Serving
* Percent Daily Values are based on a 2,000 calorie diet. Your Daily Values may be higher or lower depending on your calorie needs.
Dry
2 cups whole wheat pastry flour
1/4 cup organic cane sugar
1 tablespoon baking powder (yes, you read that right!)
1 teaspoon baking soda
1/2 teaspoon ground ginger
1/4 teaspoon salt
2 tablespoons ground flaxseed (optional)
Wet
1 stick butter, frozen
1/2 cup yogurt
1 large egg (see note)
zest of one lemon
2 tablespoons lemon juice
1/4 cup blueberries
Instructions
1. Preheat the oven to 400ºF and grease a baking sheet. Put the stick of butter in the freezer.
2. Whisk together the dry ingredients: whole wheat pasty flour, sugar, baking powder, baking soda, ginger, salt and ground flaxseed (if using).
3. In a small bowl, whisk together the yogurt, egg (or flax egg), lemon zest and juice.
4. Using either a handheld or a box grater, grate the stick of frozen butter into the bowl of dry ingredients. Work the butter into the dry ingredients with you fingers. Then add the wet ingredients and work the flour into the dough. Fold in the blueberries
5. Turn the dough out onto a floured surface and shape the dough into a 2" round. Slice into 8 triangles, place them onto the prepared pan and bake for 15-17 minutes or until lightly golden brown. Serve warm with butter and jam.
Notes
I haven't tested this recipe with a flax egg, but I would assume that it would work just fine. Let me know if you give it a try.
By the way, these scones are pretty large, so if you're serving them for a breakfast or brunch, this batch serves about 10-14 people.
Adapted from All Recipes
Busy Spoons http://www.busyspoons.com/