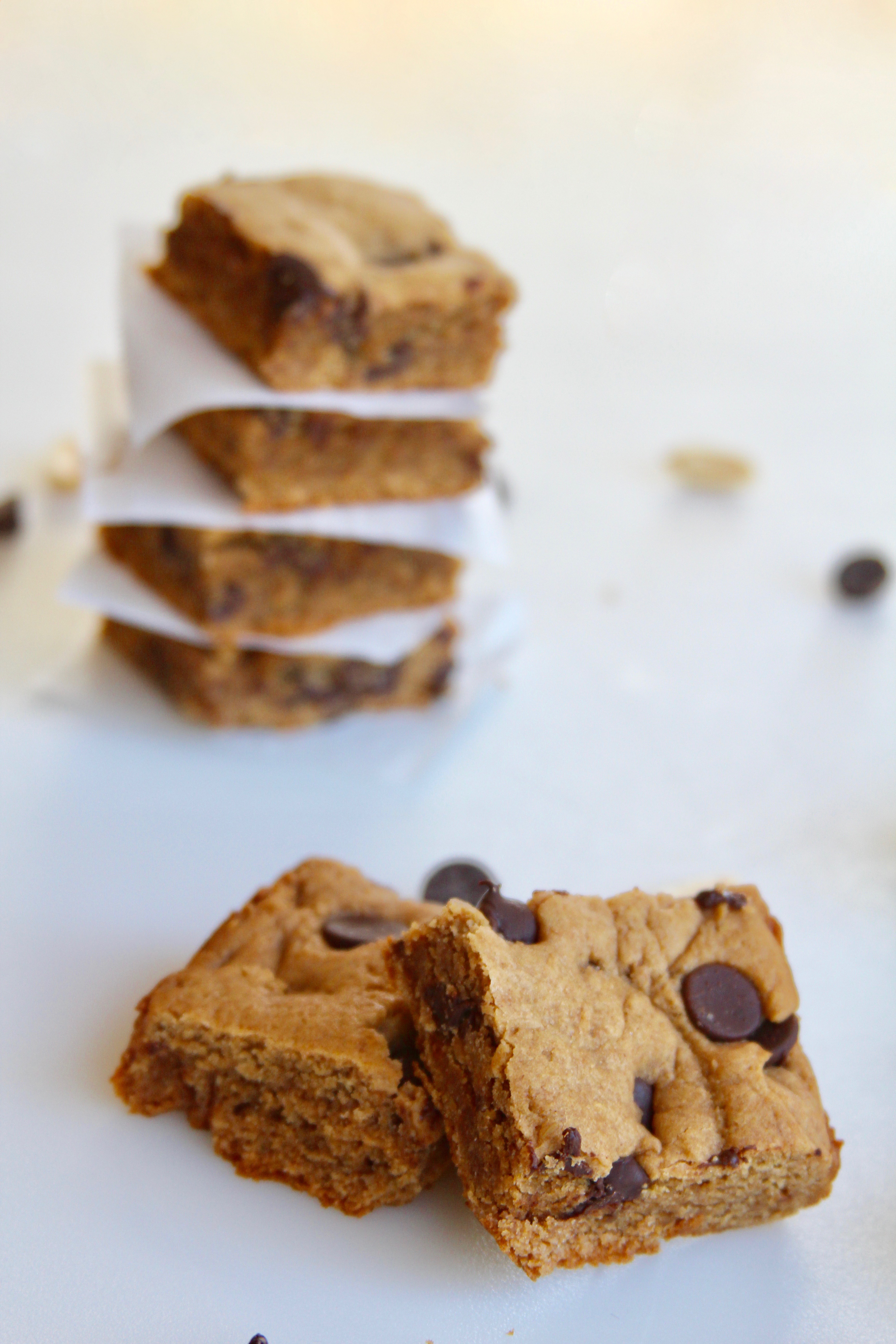 Meet my new favorite blondies. Moist, chocolatey, not too sweet. These peanut butter blondies go well with a glass of almond milk or ice cream.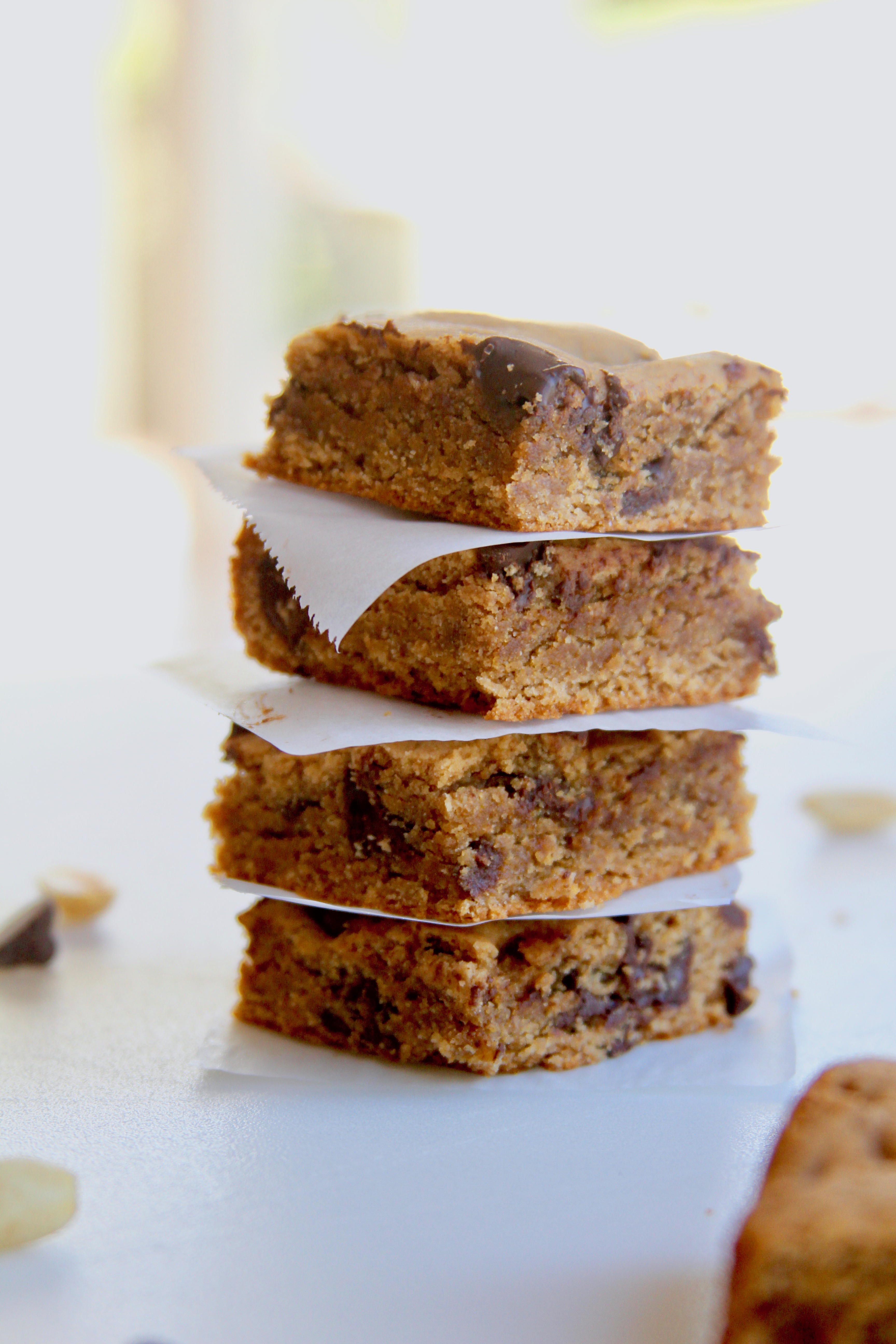 Whole Wheat Peanut Butter Blondies
2017-04-28 16:52:24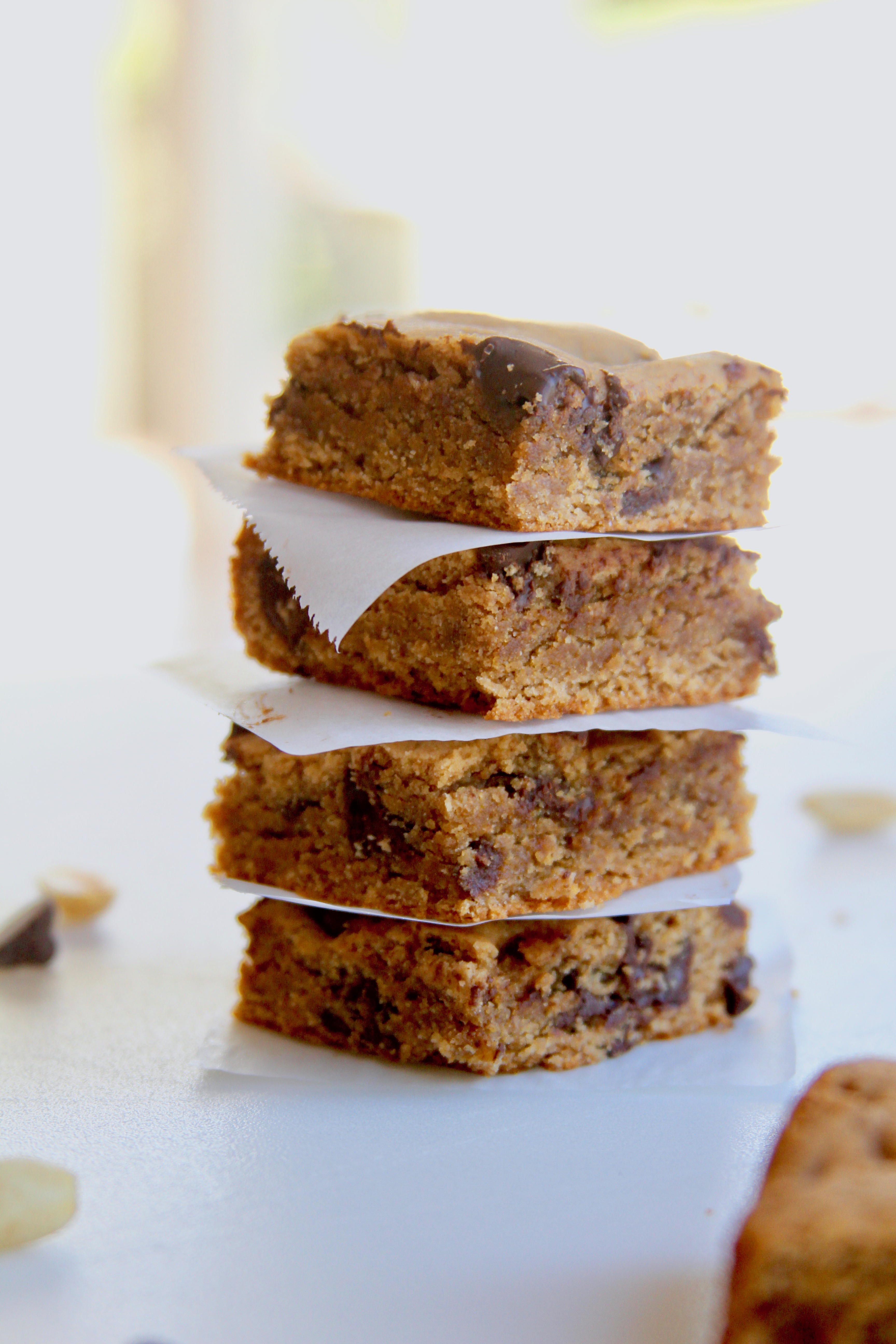 Serves 16
Moist, rich, and lightly sweet, these peanut butter chocolate chip blondies go well with a glass of almond milk or a scoop of vanilla ice cream. And with 4 grams of protein and only 5 grams of sugar, these blondies are perfect for a quick breakfast or snack.
Nutrition Facts
Amount Per Serving
* Percent Daily Values are based on a 2,000 calorie diet. Your Daily Values may be higher or lower depending on your calorie needs.
Ingredients
1 flax egg: 1 tablespoon ground flaxseed + 3 tablespoon water
1/2 cup peanut butter
1/4 cup oil (avocado or olive oil will work)*
1/4 cup maple syrup
3 tablespoons brown rice syrup
1 teaspoon vanilla extract
3/4 cup + 2 tablespoons whole wheat flour
1/2 teaspoon baking soda
1/2 teaspoon baking powder
1/2 teaspoon salt (omit if using salted peanut butter)
1/3 cup semisweet chocolate chips
1/4 cup chopped peanuts (optional)
Instructions
1. Preheat oven to 350ºF and line an 8x8 pan with parchment paper. Combine the flax and water in a small bowl and set aside for 5 minutes.
2. In a large mixing bowl with an electric mixer, beat the peanut butter, syrups and oil. Add the flax egg and vanilla extract and beat again.
3. Now beat in the baking soda and powder and salt, then the flour. Fold in the chocolate chips and peanuts.
4. Spread the dough out in the prepared pan and bake for 18 minutes or until the edges are lightly golden-brown. Be careful not to overbake as these blondies will get dry very quickly. Remove from oven and also the blondies to cool in the pan for 5-10 minutes. Then transfer them to a cooling rack. Store in an airtight container for up to one week or freeze for longer storage.
Notes
I've tested this recipe with both olive and avocado oil. Both worked just fine. I'm sure coconut oil or melted butter or Earth Balance would also work.
If you like a sweeter blondie, feel free to add some brown sugar (I wouldn't recommend adding more maple or brown rice syrup since it change the wet to dry ratio and might yield a gooier result.) Start with a few tablespoons and add more to taste.
Busy Spoons http://www.busyspoons.com/