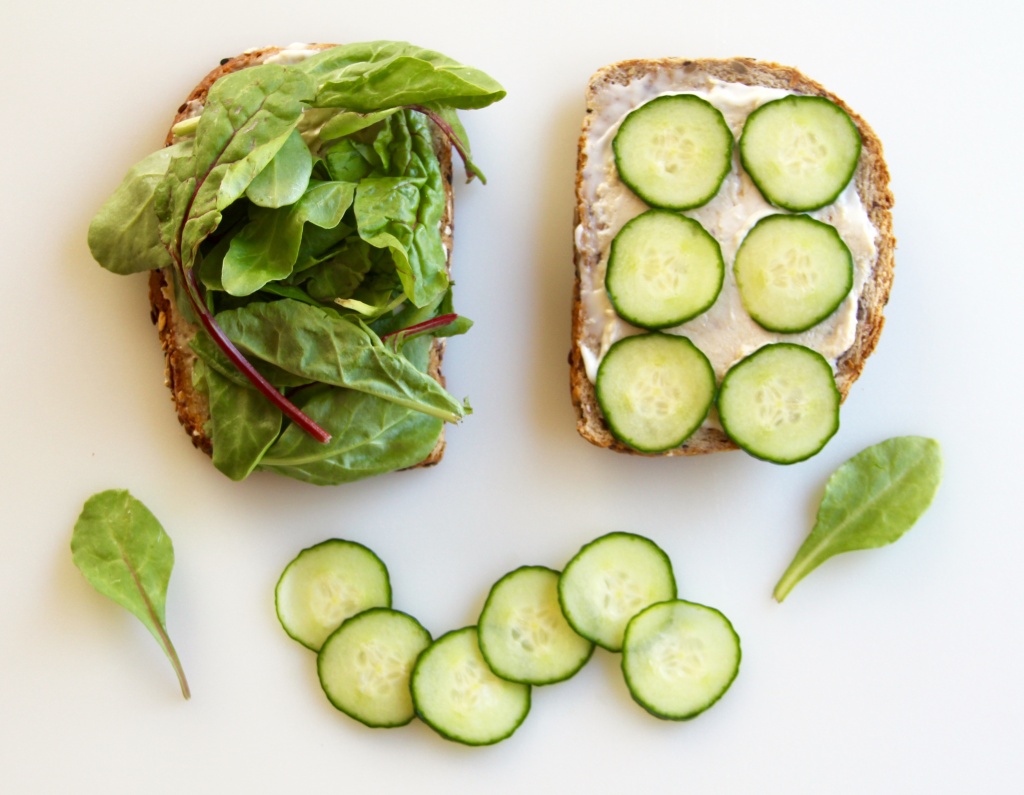 Have you ever made your own sauces or condiments? I recently made the OhSheGlows 5-Minute Soy-Free Vegan Mayonnaise. It's really easy to make and tastes even better than store-bought mayo. Like magic, when mixed with the immersion blender, the liquid-y mixture turns into perfect, creamy mayo. I know I'm never going back. Her recipe also features a special ingredient… aquafaba! If you're not familiar with this, it's literally bean water, you know, that thick, bean-y liquid that you rinse away when you open a can of beans. Well, it turns out that bean water behaves similarly to eggs so it can be used to make mayo, marshmallow fluff, meringue and tons of other things! I'll just warn you that if you don't properly balance the flavors, the bean flavor will be present (specifically in sweets). I made some marshmallow fluff for my hot chocolate and I didn't add enough sweetener, cinnamon, and vanilla so it was like bean-y hot chocolate. No one wants bean-y hot chocolate. 🙂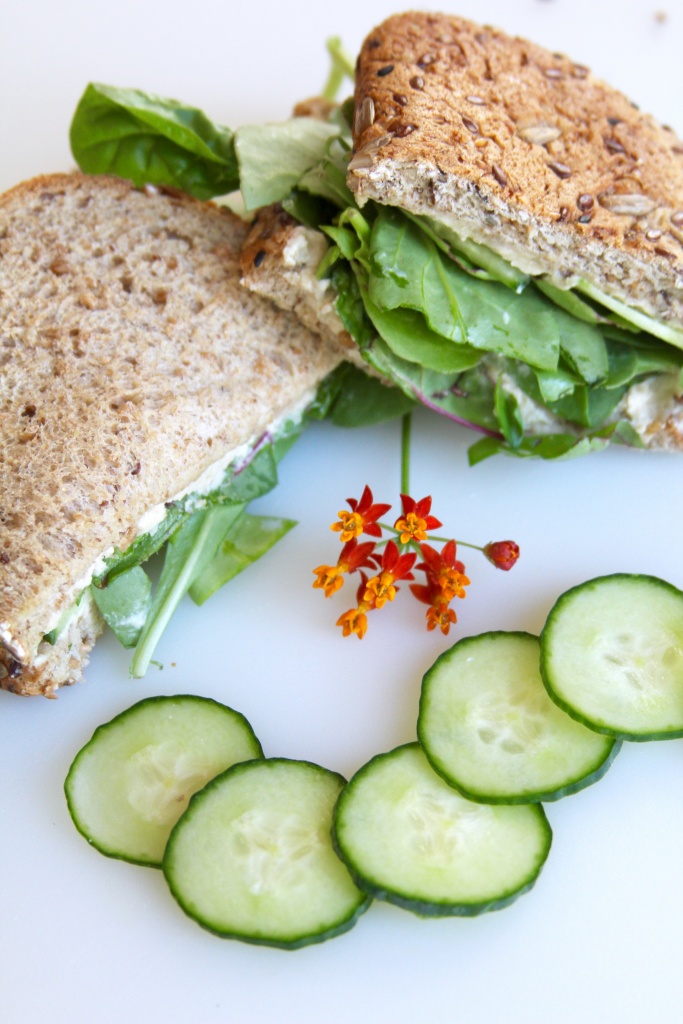 Enough with my bean rant and onto this sandwich! This sandwich features just a few flavorful ingredients, making it perfect for travel. It is high in protein (thanks, beans!) and super tasty. It's also packed with phytonutrients from the power greens. Let me know if you give it a try!
Note of caution: The flowers used in the photos (milkweed) are not edible. I just used them in the photos for decoration. Please do not eat them unless you're a monarch caterpillar. 🙂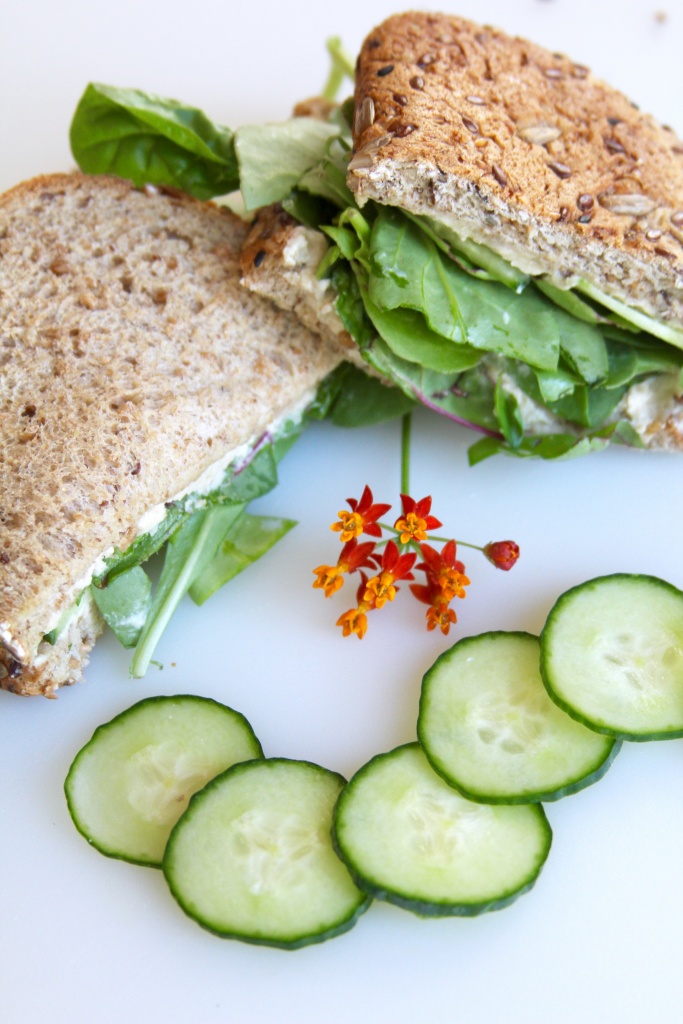 Nutrient-Packed Veggie Sandwich
2016-07-06 13:48:14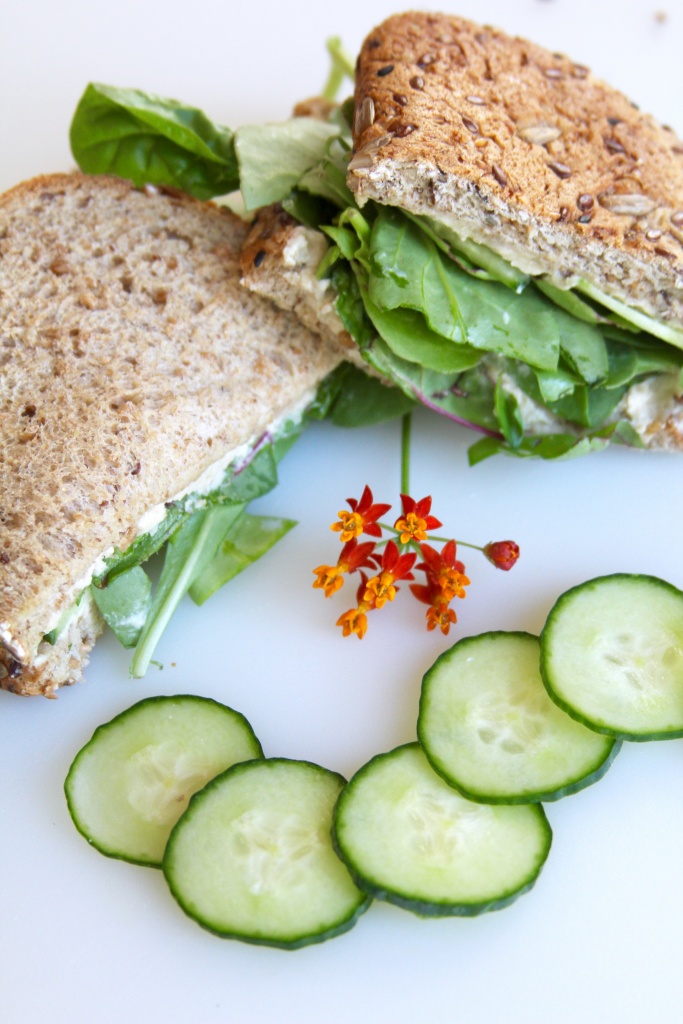 Serves 2
Simple, yet satisfying, this veggie-packed sandwich is perfect for a quick and easy lunch
Nutrition Facts
Amount Per Serving
* Percent Daily Values are based on a 2,000 calorie diet. Your Daily Values may be higher or lower depending on your calorie needs.
For the Sandwich
4 slices of a robust, whole-grain/seed bread (I like Dave's bread)
2-4 tablespoons mayo of your choice (I really like the OhSheGlows mayo)
1/2 cucumber, thinly sliced
1 cup power greens (mix of baby greens: spinach, kale, chard...)
spices (I like Trader Joes® 21 seasonings)
For the Humus (makes extra)
1 can chickpeas/garbanzo beans
3 cloves garlic (I used homemade, lacto-fermented garlic)*
3-4 tablespoons tahini
2-3 tablespoons lemon juice
water (to thin out if needed)
salt, to taste
For the Hummus
In a high speed blender, add all of the ingredients and blend until smooth. It should be thick, but if it is unspreadable, add water one tablespoon at a time. Adjust salt and other seasonings to taste.
For the Sandwich
Toast the bread if desired. Slather each slice with mayo and then a thick layer of humus (this is the protein in the sandwich). For each sandwich: On one side, place the cucumber slices and on the other, the power greens. Enjoy with saurkraut, chips and humus, baby carrots or quinoa salad.
Notes
You can follow instructions for lacto-fermentation (just Google it) to ferment garlic! It has a nice, bold flavor with a hint of sour from the fermentation. It isn't required for this humus but definitely helps it reach a whole different level. Give it a try if you can!
Busy Spoons http://www.busyspoons.com/