Today I learned that scones are very photogenic. When I set out to photograph these scones, I wanted to have a nice, whimsical theme. I laid out a kitchen towel, grabbed a bread basket, a napkin and went to work. I soon realized that I needed a cup of tea next to the scones to complete the look. Click, click, click. A couple more adjustments. Click, click, click. The camera shutter was probably going for 10 seconds straight. Then my sister came in and said, "Those scones are more famous than I'll ever be." Maybe they will be; I ended up with 267 pictures of them (of which I narrowed down to 11).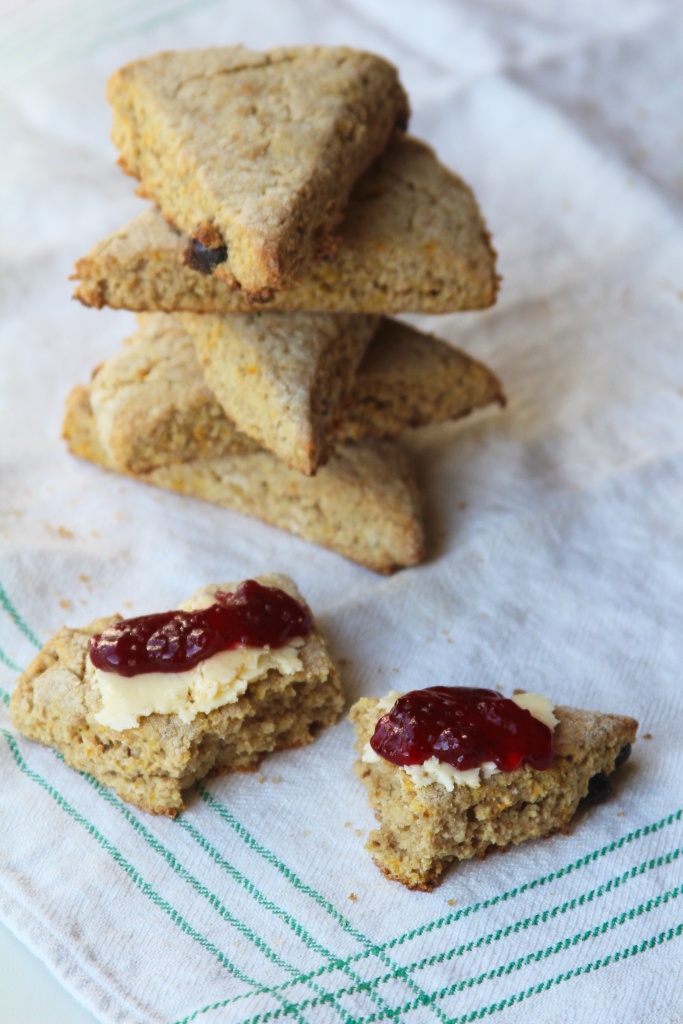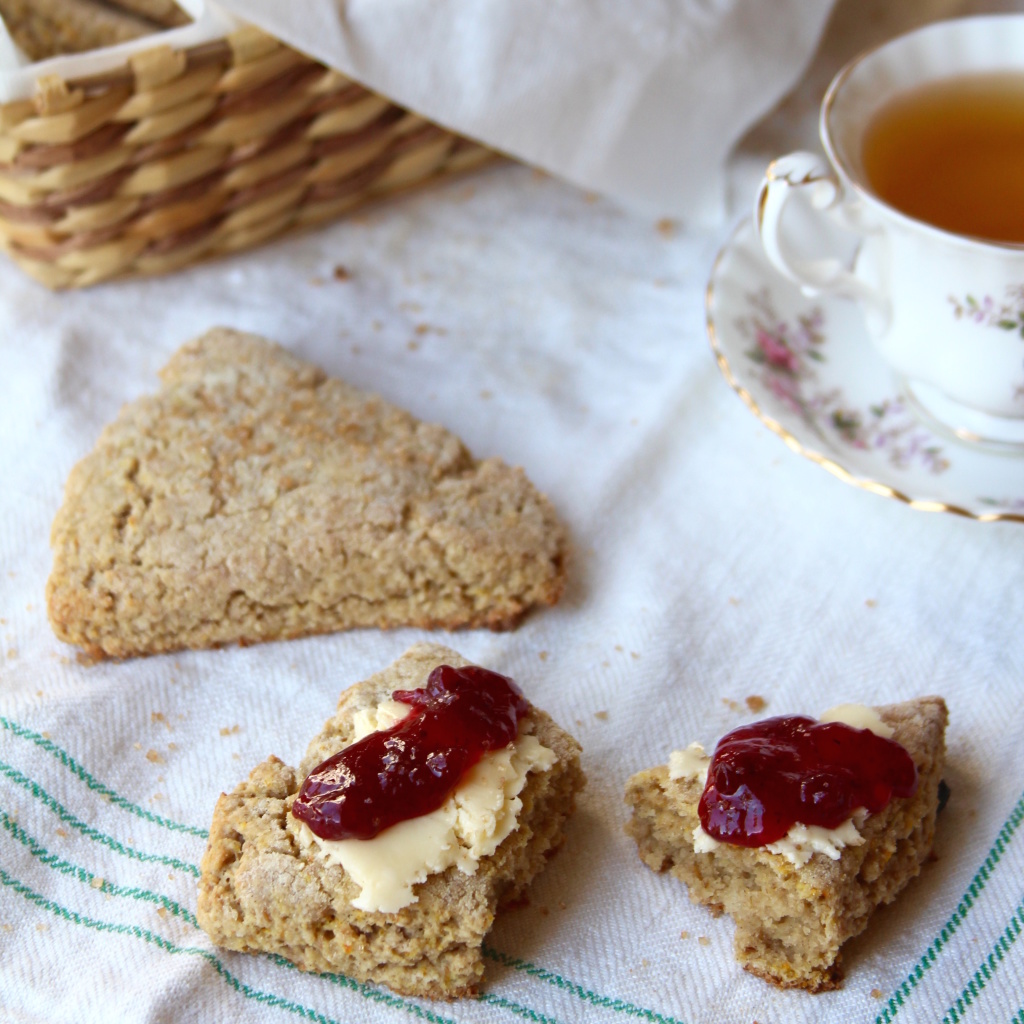 Gluten Free Orange Scones
2016-05-13 18:45:36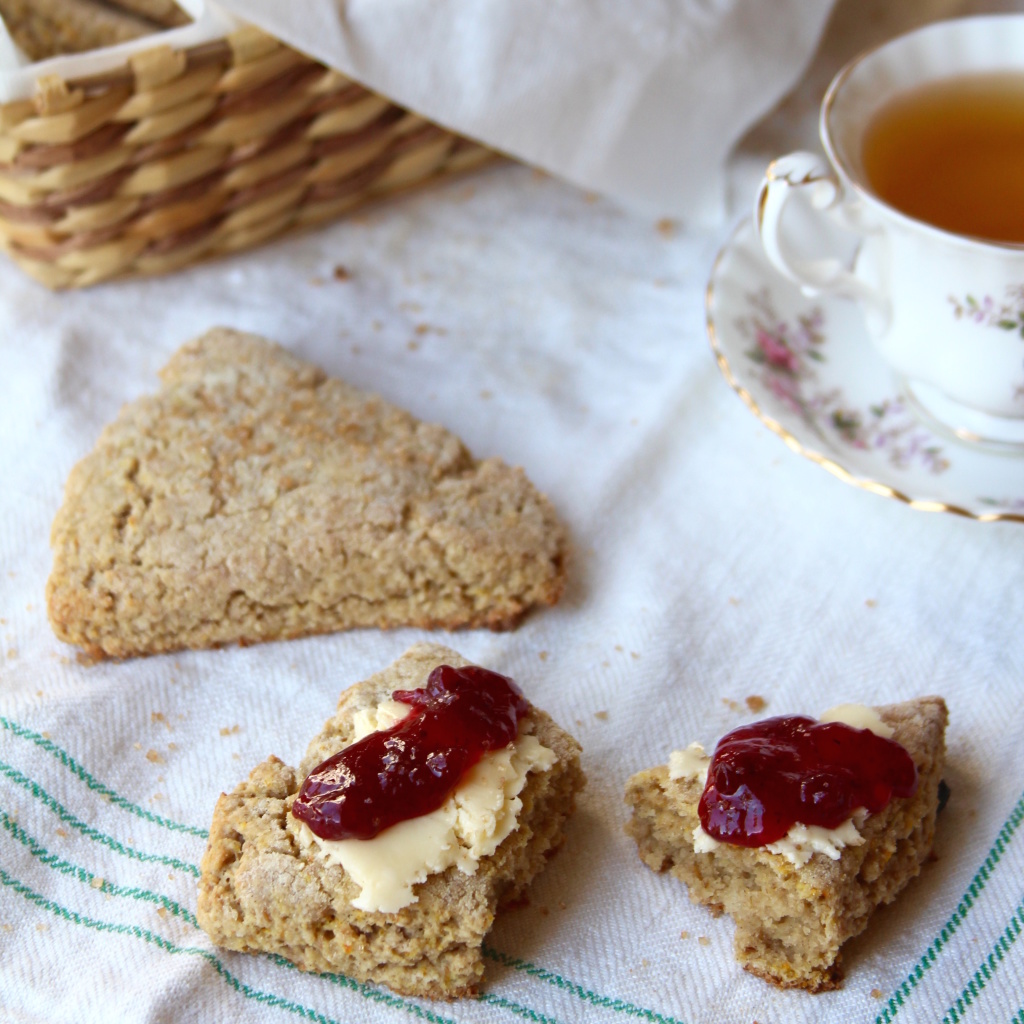 Scones are one of my favorite baked goods. They can pass as both a breakfast and a dessert. These scones are moist and hardy and are perfect topped with a pat of Earth Balance and jam or marmalade.
Nutrition Facts
Amount Per Serving
* Percent Daily Values are based on a 2,000 calorie diet. Your Daily Values may be higher or lower depending on your calorie needs.
Ingredients
1/4 cup ground flax + 1/4 cup water (mixed together and set aside for 5 minutes)
1 1/2 cups rolled oats
1/2 cup sorghum flour
2 tablespoons potato starch
1/2 teaspoon guar gum
1 1/2 teaspoon baking powder
1/4 teaspoon baking soda
1/2 teaspoon cinnamon
1/4 cup brown sugar
1/2 cup Earth Balance nondairy spread, frozen
1/2 cup yogurt (see note)
1 orange, zested
turbinado sugar, for garnish
Instructions
1. Preheat oven to 400ºF and grease a baking sheet.
2. Mix together the flax and water and set aside. Place the 1/2 cup Earth Balance in the freezer.
3. Blend the rolled oats in a high-powered blender until a fine flour forms. Add this along with the other dry ingredients to a mixing bowl and whisk to combine.
4. Add the frozen Earth Balance to the dry ingredients and with a pastry cutter or fork, work it into the dry ingredients. The dough will be slightly crumbly, but this is okay.
5. Whisk the yogurt and flax mixture together with a fork. Add the orange zest. Then add this mixture to the other ingredients. The dough will be very sticky.
6. Use a spatula to scrape the dough out of the bowl and turn it out onto a floured surface (I used sorghum flour). Roll it into a 3/4" thick round. Slice the dough into 8 triangles, sprinkle turbinado sugar on top and then place them onto the baking sheet. Bake for 15-17 minutes or until lightly golden. Enjoy with jam and tea.
Notes
Feel free to use dairy-free yogurt, if necessary. Though I haven't tested it, you might try using coconut cream as a yogurt substitute.
Busy Spoons http://www.busyspoons.com/